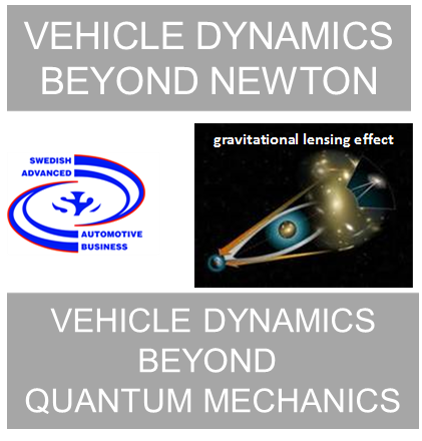 Swedish Advanced Automotive Business AB / Ground-breaking mechanical engineering
News / June 22. 2009.
Download S2AB presentation from Vehicle Dynamics Expo in Stuttgart, June 16
«TGD as topological geometrodynamics extended to tire-to-ground dynamics»  Click here to download complete presentation pack (70 MB zip. file)
Automotive Concept Provider; As innovators we are challenging the established within the automotive business with ground-breakinghigh-tech mechanization of integrated solutions with focus on "perfect pitch." Our vision is to be the preferred system concept provider with focus on quantum leaps to serve the mature automotive industry. When low cost entrants compete on price the mature industry is forced into a paradigm shift for future sustainability. Our concepts compete on high customer value for dynamically safe performance, environmentally friendly use and energy efficient communication. Our business focus is on suspension-, AWD- and transmission-systems and their upstream integration to new internal combustion engine concepts. We hope to have ignited your curiosity to read and learn more about our technologies, patents and the people behind S2AB.
We are looking for partners, investors and most importantly more brainpower. Join us today
Swedish Advanced Automotive Business  mail@s2ab.se Copyright 2019, All rights reserved